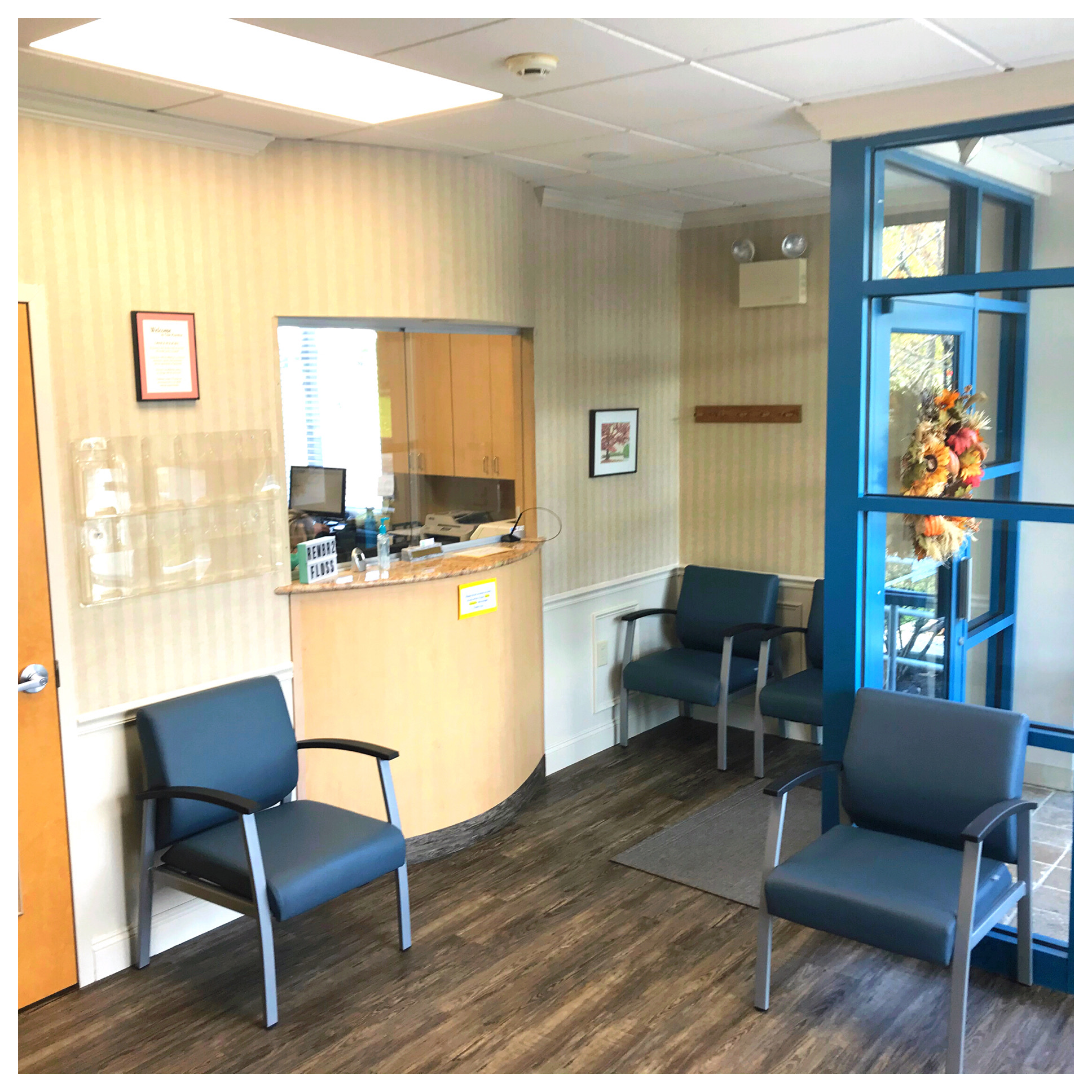 Patient Feedback
Kennett Square, PA
We are always glad to hear from our patients…what we do right and what we can improve! Hear firsthand what our patients have to say!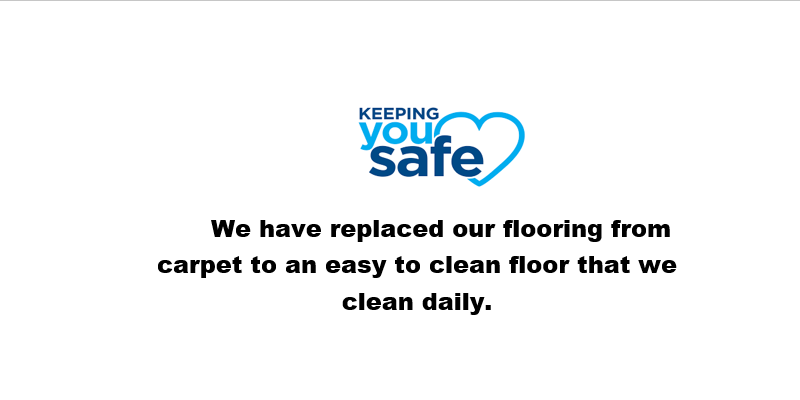 We appreciate your feedback and encourage you to tell us what you think. There are many different ways you can leave us feedback. Send us an email, leave a comment, and we'd love you to write a review on any of the following review sites: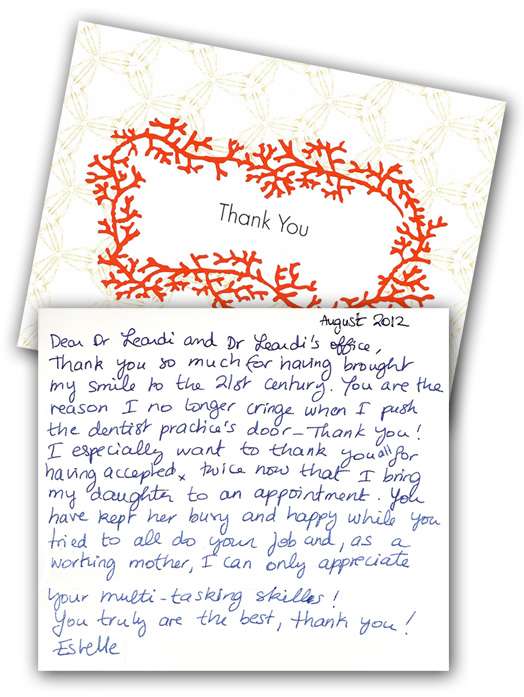 February 2017 – What a wonderful experience!! Everything from the cleaning and polishing to the staff and Dr. Leardi was absolutely amazing. There are not many front desk staff as wonderful, warm, and welcoming as the one at Dr. Leardi's. I am looking forward to my next visit!! – Susan S.
February 2017 – My experience with the Leardi Family Dentistry has always been excellent over the years I have been their patient. The practice brings together the latest technology and expertise together with a friendly family environment. I trust any and all recommendations that Dr. Leardi makes. He always describes all the options available for treatment and recommends the most optimal option. He is the best dentist I have had in my 60+ years of life. – Sina E.
February 2017 – I have nothing but good things to say about Doctor Leardi and his team of hygenists. They always make my trip to the dentist a pain free and enjoyable experience. During my last visit I opted to try the "Zoom" whitening procedure and I am happy to say I saw results after the first use. I would recommend Doctor Leardi to anyone looking to better their dental experience and overall dental health. – Bill K.
January 2017 – I can't say enough good things about Leardi Family Dentistry. I am always welcomed with a smile at the office. The staff and Dr. Leardi are so friendly, professional, caring and always make me feel at home. Thank you for the continued excellent care. – Christie C.
Sept.7, 2013 – Dr. Leardi and his staff make going to the dentist easy and fun. I am getting married in May of this year and just used the Zoom! whitening treatment and my teeth have never looked better. Thanks again to everyone at Leardi Dentistry as I have always had an excellent experience and I highly recommend their practice. – Chris
Sept. 3, 2013 – I have been a patient of Dr.Leardi's for the past four years. I am very pleased with the excellent dental care that I have received at your office over the years. You are very gentle and your staff is always very friendly. I wanted you to know how much I appreciate Leardi Family Dentistry! Thank you for the wonderful care. – Gene Vanover
Feb. 28, 2013 – We have been going to Dr Leardi for a few years now. I trust him which says a lot! He always greets me with a firm handshake (which I really like) and then explains what he is doing. If he finds something that needs to be addressed, he explains what needs to be done in simple terms. His mannerism is calm and he makes me feel at ease! I also love the Hygienists. They are efficient, careful, and personable. The office staff is great from the time you enter the office to the time you leave. They are professional, customer focused and very nice. I have been to several dentists over the years and Dr Leardi is by far, the most knowledgeable, personable, and runs his office treating each patient as if they are the only ones there. I highly recommend Leardi Family Dentistry to everyone! – Kristi Moore
Feb. 22, 2013 – Dr. Leardi and his entire staff are not only professional but very friendly too! Dr. Leardi is also great with emergencies (yes, even on holidays!!) I would recommend them to anyone! – Julie
Feb. 19, 2013 – We have been patients of Dr. Leardi for …..well, since he opened his office in Kennett Square. From the very, very beginning, we have been so pleased. Dr. Leardi and his staff are incredibly caring and give each patient fantastic attention. I really think he has a rare combination of great skill and great care. I recommend him whenever I can! – Megan T.
Feb. 15, 2013 – Our family have been patients since the office opened. Dr. Leardi and his staff are always professional, always efficient, and some f the most friendly people you will ever meet. We are grateful to have them in our community! – Kathy R.
Feb. 14, 2013 – I have been using Dr. Leardi for over 10 years and have been blown away with the outstanding service I received. From the hygienist to Dr. Leardi himself everyone is professional, kind and fun. I know most people don't like going tot he dentist but at Leardi Dentistry that won't be the case. Dr. Leardi is amazing and really knows how to provide a pain free appointment. Not only do I stand by this dentistry completely I have recommended it to several of my friends who have had some pretty serious operations done and everyone is still raving about their experience. If you are looking for a new dentist STOP LOOKING. You found it! – Mike K.
Feb.12, 2013 – Thanks for providing us with great care. We appreciate the courtesy of the staff and their fine work. – Wil Roat
Feb. 7, 2013 – Happy to be a part of Dr. Leardi's service. His staff has helped us keep good dental health for over 10 years. – bjog@earthlink.net
Feb. 7, 2013 – I should've sent a note months ago, but better late than never! Our family moved to this area about 2 years ago and I began searching for a family dentist. After checking out many area dentists' websites, I chose Dr. Leardi. The website was professional and yet conveyed a warmth. So I scheduled a visit for myself as the family "guinea pig". I have to say that from my very first encounter with Leardi Family Dentistry, I was impressed. It's not an exaggeration to say that EVERY staff member was kind and professional and the "tone" of the office was friendly and inviting. Needless to say, my entire family now are patients. Of course, the most important thing is quality of dental care and I can say that we have been more than pleased with the caliber of care. From great cleanings, to fillings, to crowns, each procedure was performed with expertise and attention to detail to provide us with a great outcome. I often hear people say they dread going to the dentist. I think that's because they're not going to Leardi Family Dentistry! – Dianne
Sept. 20, 2012 – Thank you so much for letting me take the picture after my mom and I received our crowns. It's so ironic that we both had a tooth that broke and each needed a crown within a week of each other! We appreciate the top quality care we received and the friendliness of your entire office staff. Thanks for giving us miles of smiles! Gratefully, Sandy & Catharine
Nov 21, 2011 – I have been a patient of Dr. Leardi's since he opened his practice. One memorable Christmas eve I got my front teeth knocked out and Dr. Leardi and his wife came in that night to fix them for me. They saved me from countless renditions of a certain Christmas song! Eight years ago I moved to State College, and I still make the 6 hour round trip to Kennett Square every 6 months for my cleanings. There is a reason I do that….I wouldn't trust my smile to anyone else! – Eliza
May 31, 2011 – My family and I have had Dr. Leardi as our family dentist for the past two years. I think it is a wonderful practice. Everyone there is kind and friendly. It is a very warm atmosphere. Dr. Leardi is a very knowledgeable and gentle dentist. I feel like we are receiving the best dental care possible. We feel lucky to have found this office! – Smiling in Kennett (Yahoo user)
Mar 24, 2011 – I am writing this review from the perspective of an employee as well as a patient. I have been here almost 4 years now and couldn't be more proud of where I work. Dr. Leardi is very dedicated to his patients. He will come in on his time off for a patient with an emergency and always calls every patient he has worked on each day before he leaves the office. Dr. Leardi attends conferences earning education credits to keep abreast on the latest techniques and procedures in the dental field, as well. For instance, we are the #1 office involved in an Arestin Access Program. This medication is used in the treatment of periodontal disease and we have seen extremely positive results in our patients where Arestin has been placed. It is because of innovative programs such as the above, and the well-trained and friendly staff, that I am proud to be a part of this dedicated team. Our patients appreciate our efforts in providing quality dental care and we consider all of them our friends. P.S. We love new patients!! – JG
September 23, 2009 – Dr. Leardi and his staff allowed me to help work around the office for the last year. This has been such a great experience for me because I some day hope to pursue a dental career. I was very observant while working at the office and learned that Dr. Leardi is unlike any other dentist I've ever had. He is very proficient and builds close relationships with his patients. Working at the office, I constantly hear his patients tell him how much they love him and drive from far distances to get to the office because of his quality of work and his great friendly staff! Dr. Leardi's patients are always satisfied when leaving the office. – Happy Helper =)
August 17, 2009 – Who would ever think a trip to the dentist could be such a sweet thing, visiting Dr. Leardi's office is like a trip to a sweet shop, a delicious experience :} a place full of good things and wonderful people ~ Dr. Leardi and his staff make our visits happy, no pain, only gain :} healthy teeth and nice smiles, most of all, Happy people we are ~ they are caring and kind, always working so hard to make us and our teeth Happy ~ my children and i look forward to our visits there, as we always know all good things are there waiting for us, so lucky to have found Dr. Leardi and his staff, they are the BEST ever ~ god bless them all! – Lisa Aurillo and Family
July 28, 2009 – I am a mother of 4 active kids, and we love Dr. Leardi as our dentist. He is very caring, thorough and professional, and he always takes the time to talk to me about each child after the visit. His staff goes above and beyond to make sure everyone is comfortable, and the office staff is very accommodating when we schedule our dental visits. I highly recommend Dr. Leardi as a great family dentist. – Lauren
June 2, 2009 – I was recently in a serious motor vehicle accident and may lose most or all of my front teeth. On Memorial Day, there was a problem with the temporary work the hospital had performed. Without hesitation Dr. Leardi left a family gathering to make a HOUSE CALL. He reassuringly told me he'd seen worse and promised to bring back a "Hollywood Smile". This type of care goes far beyond a Five-Star rating. My wife, three children and I have been grateful patients for over 10 years and could never imagine trusting our teeth to anyone else.
May 29, 2009 – Just wanted to add my two cents about Dr. Leardi and his staff. I am one of those patients who gets extremely anxious even thinking about going to the dentist. I really need that "special touch" to ease my anxiety and Dr. Leardi and his staff more than deliver. Thanks, Dr. Bob for making me feel at ease! – Carol R.
May 17, 2009 – I cannot put into words how grateful and thankful I am to you and your staff. I will never, ever forget how kind and pleasant you all are. I encourage you all to continue treating all with your ever so pleasant personalities. Because of you, I can smile with confidence. Let this picture be a reminder of the remarkable job you do every day. From the true spirit of thankfulness within me, I say thanks to all of you. Love, – Maureen
April 8, 2009 – A smile is such a lovely thing!! My family and I are ever so grateful to Dr. Leardi and his wonderful staff for keeping our smiles happy and healthy! After my four-year old's first check-up and filling, he asked if he could go back to Dr. Leardi's office every day. How's that for loving your dental office!! We all think the world of Dr. Leardi and his special staff. Simply put, they are the best. XO L. A. and Family P.S. All my love to all of the angels at Dr. Leardi's
October 10, 2008 – I would like to tell you how much I appreciate your seeing me on Sunday, September 16, the day before our movers arrived to pack us up for our move to CT and the day of our Bon Voyage dinner with family and friends. It would have been very easy to have avoided it and I thank you for interrupting your Sunday, your soccer game and your weekend time with your family. Besides having the tooth repaired, it gave me a chance to briefly see your daughter again, the quads and your patient wife and dad. What a wonderful family. Among the many things we will miss about PA will be your team of people, all of whom were always efficient, helpful and very pleasant to deal with. My sincere thanks to you for everything.
March 1, 2006 – Dr. Leardi is the most sensitive and caring dentist, or any doctor for that matter, that I've ever encountered. He has phoned me himself, several times, the evening of a day when I received treatment just to check in with me and make sure everything was OK with me. That kind of personal attention can't be beat! I have no qualms about receiving proper treatment recommendations and the highest quality treatment from Dr. Leardi whenever I visit him. Sincerely, a Yahoo! Local User
September 17, 2005 – Dr. Leardi and his assistants are gentle and good at what they do. My kids actually LIKE to go to the dentist now! My husband, who is a little nervous around dentists, was willing to go see Dr. Leardi after hearing my kids say how gentle he is! Sincerely, A Yahoo! Local User
Recent Posts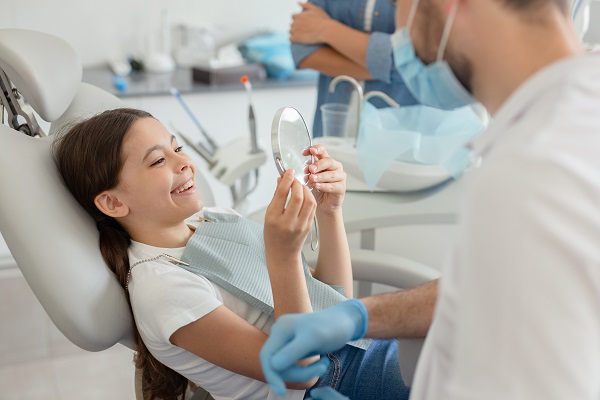 A kid-friendly dentist treats oral health concerns in children. However, an equally important part of their job is to work with parents to improve their child's oral hygiene at home. This is because the majority of oral care takes place away from the office, so parents knowing how to help their child maintain a beautiful…