Infected and Diseased Gums
In 2003 the World Health Organization published a comprehensive report on oral health with research showing that up to 85% of adults in the US have some form of gum disease. Unfortunately most of these people don't know it. It is gum disease and Perio Protect fights it!
The symptoms of gum disease include:
Bleeding gums
Sensitive teeth
Obvious plaque, tartar or calculus
Persistent b ad breath
Swollen, red or tender gums
Spaces developing between your teeth
Receding gums (teeth appear longer)
Loose or mobile teeth
These symptoms are part of your body's response to a bacterial infection in the gum tissue around the teeth, and they are serious. Many people ignore the symptoms because they cannot see the infected areas. You can easily swallow the blood and bacteria when brushing and flossing for example, but it is not normal. If you were bleeding from an infected wound in your hand, you would treat it. The bacterial infection in your mouth should also be treated.Treatment is even more important because research has linked infected gum tissue to:
Type II Diabetes
Cardiovascular Disease
Blood Clots and Strokes
Preterm and Low Birth Weight Babies
Respiratory Disease
Alzheimer's Disease
Effective Treatment
The Perio Protect Method uses an FDA-cleared medical device called a Perio Tray that is custom-made for your mouth. The Perio Tray has a special, patented seal that holds medications in the infected area for enough time to kill the bacteria causing the disease.Patients describe the Perio Tray as comfortable and Perio Protect treatment as easy to do. Your doctor or hygienist will tell you how often and long to wear your Perio Trays. For most people this amounts to only minutes each day When you consider treatment options, you should know that Perio Protect is a non-invasive treatment that effectively delivers antimicrobial medication around the teeth and below the gum line to kill the bacteria causing the disease, It also offers a long-term homecare maintenance program to manage the disease.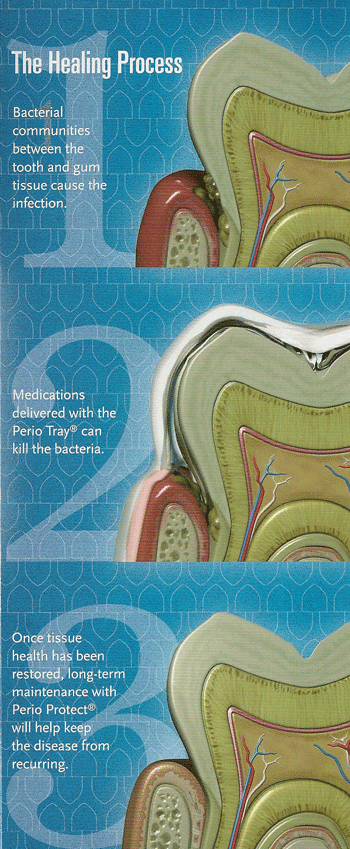 Note: Perio Protect, the Perio Protect Method, Perio Tray are trademarks of Perio Protect, LLC.
---
Related Posts
March 7, 2017
While the surfaces of teeth need regular dental hygiene, the structure needs the same level of care. PeriodonticsWe offer treatment for the structures that are crucial to supporting and surrounding teeth. If these structures do not …
---